What are African Queen Tattoos?
African Queen tattoos are tattoos on the human body of African Queens. African Queens are beautiful women who are often displayed in artwork including paintings, sculptures and body art.
Tattoos are popular amongst African tribes and this has influenced the use of African Queen designs. African Queen inspired tattoos are popular on people around the world.
Africa has some of the most beautiful Queens and they now can be found on the skin of humans around the world. There are many reasons for why someone would get a tattoo of an African Queen on their body. This might include their cultural identity, interest in African monarchy, family background or they simply admire the beauty of an African Queen.

Where to get one?
The location of a tattoo is completely down to personal preference. An African Queen will more than likely be a good size. This means the tattoo is likely to be on the arm, leg, back or chest area as these are the biggest areas of the body.
The most popular place to get a tattoo of an African Queen is the thigh, chest, and back. They are popular with both men and women however women seem to choose these types of tattoos more.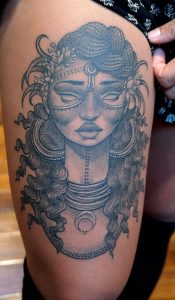 Design Options
The design options for an African Queen tattoo are endless. Many people create their own designs by finding their favorite image of an African Queen and adding features to them like extra hair, more vibrant color, headpieces, tattoos on the Queen and jewelry. African Queens are beautiful women who have an African style complete with traditional tribal make-up and tattoos. They also have the traditional headpieces, clothing and you can change these to suit your presence – after all, it will be on your body for the rest of your life!
African Queens rose to power to fight for women's equality and rights. They conquered Africa with some of the Queens defeating the male warriors and having all female troops. Many women, these days, look up to the African Queens because of their power and passion towards women rights.
Queens
Some of the most well-known Queens include Amina, The Queen of Zaria, Nigeria, Candace, The Empress of Ethiopia and Makeda, The Queen of Sheba. The most popular and well-known Queen, however, is Cleopatra. She is one of the most recognized African Queens who was the Queen of Egypt, seduced the Romans, inspired Shakespeare and many paintings and films to this day.
Cleopatra was the last Queen of Egypt who married Julius Caesar as well as Mark Antony and had 4 children (1 with Caesar and 3 with Antony). She ruled for over 20 years and helped to delay the Romans from taking over Egypt. Cleopatra also helped the strengthen the economy of the country and when she died Egypt was in a good place financially. She was well known for her beauty and personality, there are many speculations about how she died. With many people believing she killed herself by getting a snake to bite her.
Due to the worldwide popularity and interest in history, Cleopatra is still, to this day, one of the most popular Queens to research, paint and get a tattoo of. As there are not many clear images of Cleopatra, there is room for your own designs of what she looked like and accessories she had.
Queen Nefertiti
Another popular tattoo design is of Queen Nefertiti. She was another Queen of Egypt and renowned for her beauty. She ruled alongside her husband and her name means 'a beautiful woman has come'. The bust of Nefertiti is one of the most iconic symbols of Egypt and is now one of the most popular Egyptian and African tattoos. The Queen Nefertiti tattoo symbolizes feminine power, progress, and prosperity.
So if you're looking for an African Queen tattoo idea, these are just some of the ideas. The most popular Queens is a great choice for your tattoo. The great thing about tattoos is that each one is unique. You can add whatever designs, patterns, and colors to a drawing of a Queen to add your own unique touch. So make sure you remember this when you choose and design your tattoo.
The history of Egyptians and Africans have fascinated people for many years. Their unique culture continues to inspire tattoos everyday. Whether you love an Egyptian symbol or admire an African Queen, there is plenty of ways to get an African Queen tattoo.