Much of the first impression of a woman is created by her nails. Women realize this and for many years, the women's fashion industry has been characterized with trendy nail art designs. The purple nail designs seem to be the thing, probably because the color is associated with womanhood as well as with royalty.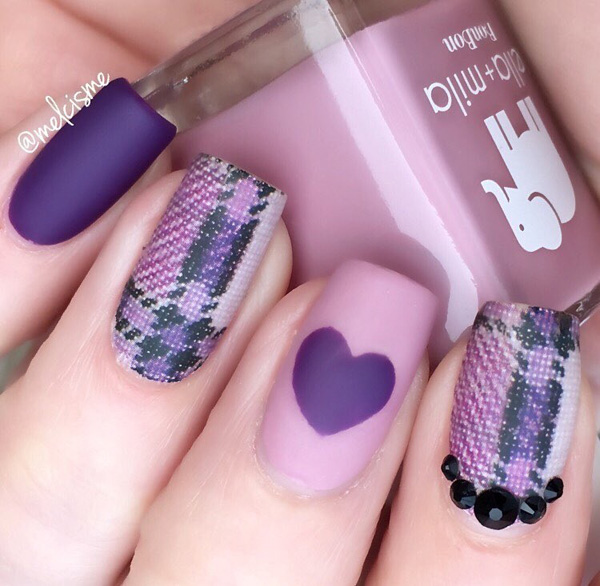 Why go for purple?
Different colors have always had a special meaning pegged on them. Colors show off a person's attributes and reflect the different moods of the wearer. The purple color is no exemption. For centuries, the color has been associated with royalty and the love for wealth.
Psychologists have argued that the purple color is a favorite of introverts and persons with deep, developed character.
Secondly, purple nail polish comes in various shades. There are softer shades such as such as lavender and lilac and deep shades like the matte and glossy shades. The color fits well with nails of all sizes.
The purple color fits every woman no matter their skin color and no matter the occasion. For the winter seasons, the darker shades are ideal because they are warm. However, if you are attending a red carpet event, choose the soft shades of lilac and lavender.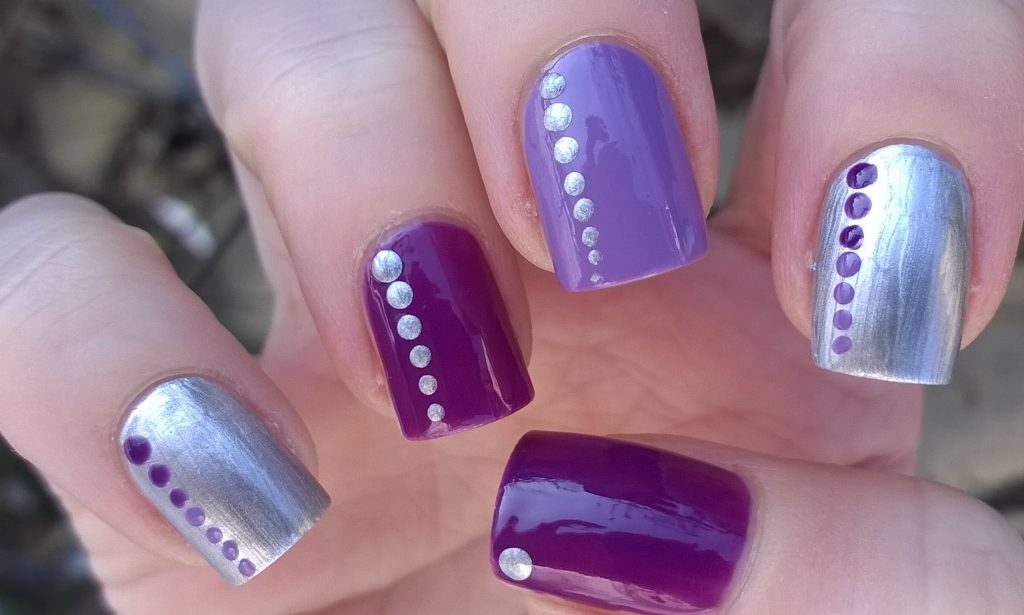 5 elegant purple nail art designs
1. Purple nails with floral designs
Women and a flower have almost become two synonymous names. It is for this reason that nail artists began to make floral patterns with purple designs. You can wear floral nail art with purple or draw some purple floral designs along with dots.
2. Purple nail art with French tips
We know that the French nail design is whereby you keep your nails natural or shade them with a neutral shade and then add some polish at the tips. With the purple nail art with French tips, you paint the tips with a purple shade. Spice the design up by shading in chevron patterns or adding glitters at the tip.
3. Purple nail design with animal prints
It is okay for a woman to sometimes adorn wild colors and wild prints. It depicts a stylish, yet fierce version of a woman. Embellishing a purple nail art with animal print will do exactly that. Bring out a stylish yet fierce woman. You have an array of choice when it comes to animal prints. These are zebra stripes, leopard spots or the tiger strips.
4. Checkered purple nails
This design is Ideal for the woman who wants to look elegant but calm. Checkered nails are painted to look like checks. You can easily make them at home by adding black hues in the checks. Smaller checks tend to look more elegant while the larger checks are calm.
5. Purple nail design with polka dots or strips
Polka dots look adorable on dresses. When it comes to your nails, polka dots look equally adorable. Add polka dots using a dotting tool. Only use the white polka dots. If you, however, decide to go with the strips, you may paint different colors. The ideal colors are lilac, yellow, green or black.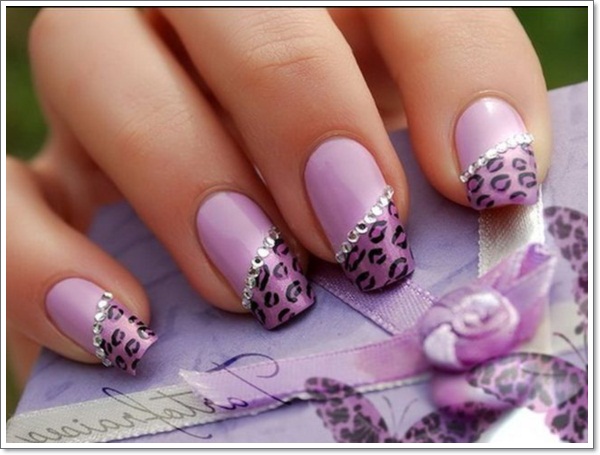 Tips to add glam to purple nail designs
Splash some fine glitter
Splash some gold or silver glitters once you are done painting the nail with purple. The glitter effect has a charming effect. Be careful that the glitter does not overshadow the purple color.
Embellish the nails with purple and gold
You can never go wrong with purple and gold. Apply gold nail polish on the base of the nail by adding strips of gold in a triangle, the chevrons or the ombre patterns. The combination brings out a striking effect.
Add a shiny and colorless coat
Some shades of purple tend to be a bit dull. If you wish to brighten the purple color a bit, add a shiny and colorless nail polish at the top.
Spray some diamonds
Diamonds have always been a favorite of girls. How about then using a diamond polish with your purple nail designs? Spraying diamond polishes sparingly on the tips of the nail bring out the purple nail elegance at its best.
For the busy woman
If you are a woman who operates in a really tight schedule but still wants your nail polish looking all fresh, use the purple UV gel. The gel is durable and works to strengthen your nails. It can incorporate the trendy purple art designs you may wish for.