If you want big, full hair without too much fuss, crochet braids may just be your best friend. They offer versatile ways to wear your hair, especially if you are an amateur and don't want to attempt sew-in extensions. When you're wearing your crochet braids, people may not even notice you're wearing extensions, and they last for quite a while if they are maintained properly.
If you're new to crochet braids, the number of choices can be intimidating. They are available in so many materials, lengths, and textures. Crochet braids are one of the most affordable styles when it comes to extensions, but many women fear they will look cheap and unnatural. This is not true if they are installed correctly. Here are some products you might like to try.
Outre Synthetic Crochet X-Pression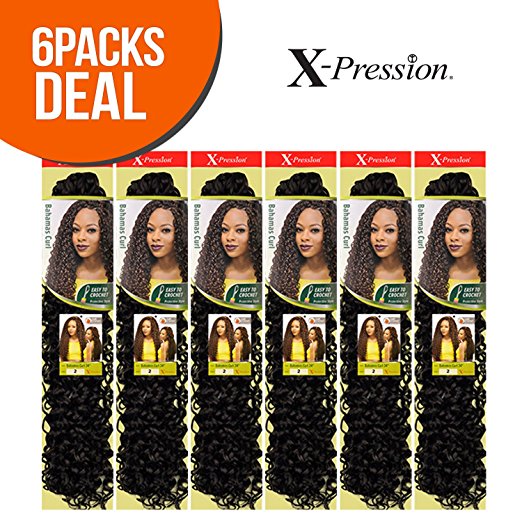 This hair will give you the luxurious look of long, soft hair. A world-renowned classic, X-Pression is known for its styling and braiding capabilities. You can explore endless styling possibilities, but you do need to have some patience because you're working with plenty of hair.
This pre-curled style has a soft, silky texture and if you love long, full hair, this product will really appeal to you. Some people install all six packs of the hair for a long, full style.  Some trim the length to make it more manageable. If you love curly hair, the spiral curl on this product with its bounce is really cute.
One of the advantages is that despite the quantity of hair, it is not heavy. It is also really affordable and lasts from four to six weeks, depending on how you maintain it.
This hair is rather high maintenance, and if you don't look after it, it doesn't last. You do need to untangle it and twist it every night, but you won't mind doing that if you love a long, silky, curly look.
Flyteng 18 inch 8 Packs Senegalese Twist Crochet Braids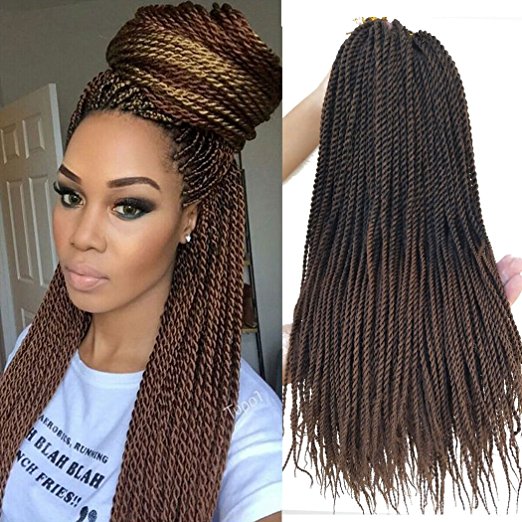 With eight packs of Senegalese twist crochet hair braids and each pack containing 30 strands, this is enough to give you a full head of hair. If you're looking for extra volume, you may need to use a couple more packs.
As the name suggests, Senegalise twists originated in Senegal, West Africa.  They are thin in diameter and give a tight, smooth look. They give a shiny rather than frizzy look.  Some people choose to use human hair, but synthetic hair works better for this style because the texture helps to prevent the twists from unraveling prematurely.
When they are properly installed, they need less time to put in and remove than other types of extensions, and with the care, they can last for two to three months.
What people enjoy about these crochet braids is that they are very versatile. You can wear it in a bun, twisted, coiled and down.  This soft hair and it is usually not heavy at all to wear, but the heaviness does depend on the style.  If you choose to wear a bun, it will be heavier.
Afro Kinky Twist Hair Crochet Braids Ombre Marley Braid Hair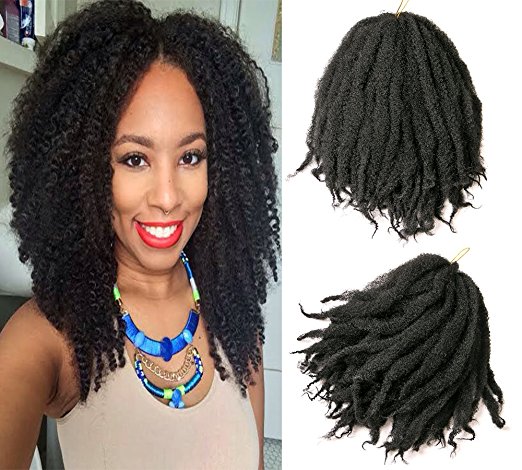 This package contains four packs of hair with 24 strands per pack. Each strand is 18" long. This makes it very versatile, and it can be used to create many different styles. You can even cut it to frame your face if you prefer.
The name "Marley hair" is of course inspired by reggae artist, Bob Marley. The inspiration was to create extension braiding hair that closely resembles a natural afro kinky coiled texture. Women with coarser hair will love this type of hair to create the most sought-after styles because it blends nicely with their natural hair texture
This hair is generally light, but it can become heavier depending on the style and length and size of the individual twists used. This hair can be worn everywhere, from work to a club and you can switch from day to night looks without changing your hairstyle. It also defies seasons – wear it for a warm, protective winter style and a casual summer style.  This product is affordable and offers long-lasting wear.