The right hairstyle can change a person's entire look. One can be taken from a place of crippling insecurities to feeling like an absolute goddess in a matter of hours if they have the right stylist on hand. While some can look drop dead gorgeous with short hair, it is unfortunately not for everyone.
If you can grow exceptionally long locks of your own hair, then you truly are one of the lucky ones. Others need extensions or braids. But for the best possible look, you need the best possible faux locs to compliment your style.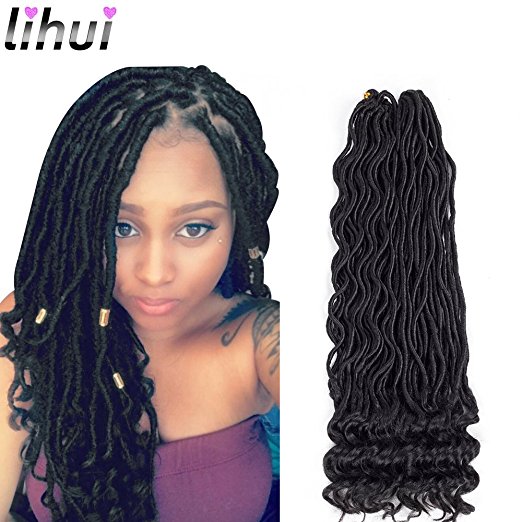 At Lihui, the philosophy seems to be that longer is always better. If you are in the market for braids that trail seductively down your entire back, then you surely have come to the right place.
This particular set of goddess locks are made out of synthetic materials and boast of being 100% Kanekalon hair. Each loc is crochet, and therefore you do not need to worry about it spontaneously unraveling. In fact, they claim that these braids are very difficult to pull apart. This might make you think that you will be getting clunky and rough braids, but that is not the case. These braids are silky soft and only weight 70 grams per pack. With each pack delivering 24 braids.
Getting down to business, how long is long? Well, each braid measures in at 20 inches. On the topic of the smell of these braids, you can sleep soundly as they come with absolutely no smell what so ever. They are also exceptionally easy to put on, which means that your perfect head of hair will not take days to achieve.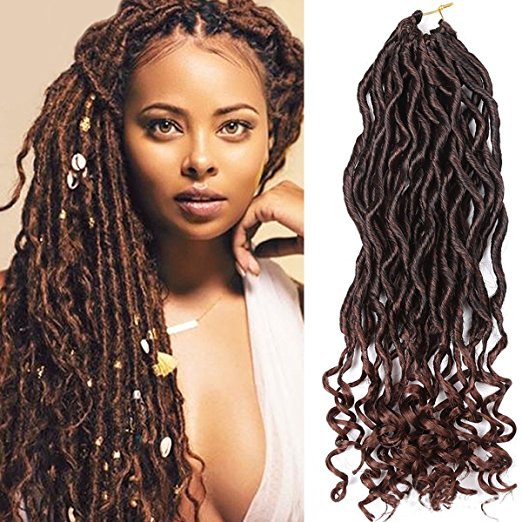 Alan hair offer a product that is perfect for people who are looking for braids that are not black. Why not add a bit of color to your life by giving their burgundy locks a try?
These braids do not only come in a unique colour but they also wonderfully long. 18 inches to be exact. On the topic of materials used, the extensions may be completely synthetic, but they are solely made of Kanekalon hair. A pack of braids will supply you with 24 braids that collectively weigh 100 grams. These lightweight braids will be a welcome to those who are used to bulky extensions that can give any person a headache on even the best of days. These braids are guaranteed to look stunning, but they will also feel great. They are neither rough nor do they include an unwelcomed aroma.
There is no chance of them unraveling while out on the town as they have been put together quite tightly. If you are in the mood to style them up a bit, then all you need do is apply a curling iron once they have been left to sit in hot water for a couple of minutes.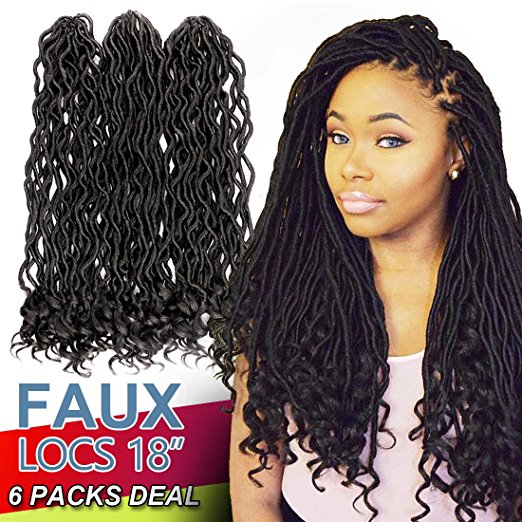 If you purchase extensions from DaisyLove, then you will be getting the best of both worlds. Their crochet braids are relatively straight at the top, and then they taper off nicely with curls as you reach the bottom.
These braids are completely made out of Kanekalon hair which means that you will be getting length, strength, and shine without the added smell. There is no good have a stunning head of hair if it smells somewhat odd. In terms of length, each braid is 20 inches long, and one packet will give you 24 of these deliciously long locks. To cover the entire head, you will need to purchase between 6 and 8 packs of extensions. It will all depend on the individual head along with the desired thickness that you are trying to achieve.
The application of these braids is thankfully easy and stress-free. As an added bonus, once this has been done, you will be left with a full head of long hair for quite a while due to the braid's resistance to separation.
The sheer length of each of these products means that you will be able to achieve any hairstyle that strikes your fancy. Once applied there will be no added hassle, leaving you looking for absolute best for a week to come.