Fine hair is extra sensitive, so it needs some special care to keep it looking healthy and shiny. Excessive heat is very bad for fine hair and can it to frizz. Using the right hairdryer will make it look sleek and silky but using the wrong one can make it dry, dull, brittle and flat.
Features to look for in hairdryers suitable for fine hair are multiple heat and speed settings. Without control over the level of heat and speed, you run the risk of damaging your fine hair. A concentrator is also useful to keep control over the heat direction, and a cool shot helps to avoid overheating and set in style.  The best hairdryers for fine hair usually feature ionic technology. Here are some top picks for the best hair dryers for fine hair.
The 6th Sense Masterpiece Professional Hair Dryer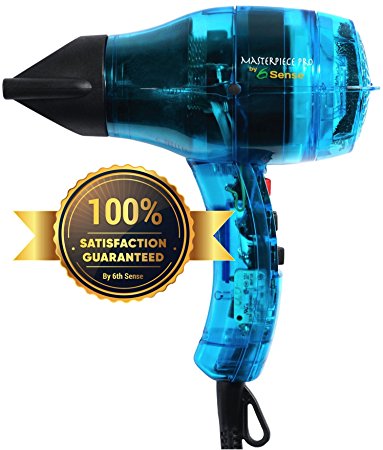 The 6th Sense Masterpiece is handcrafted in France and helps to give professional results because it's typically used in salons. Its 1600 watt motor does not use that much power, but it is powerful enough for hours of daily use. Hair dryers with less wattage are good for fine hair because they are gentle on hair that's prone to frizz.    This hair dryer has a compact footprint which makes it great for travel.
The dual ion generator is an impressive feature of this hairdryer. An on/off switch allows you to achieve sleek hair when using the on button and more volume when using the off button. You not only get the best of both worlds but you don't ever have to settle for frizzy hair again.
Other great features are anti-shock buttons, a temperature switch, an airspeed switch, a cool shot, two different concentrator nozzles and a 10-foot cord with a circuit breaker.
Another benefit is that the hairdryer is ergonomically designed to ease the strain on the arm, shoulder or hand and features a built-in dryer stand. The product has a two-year warranty.
Rusk W8less Professional 2000 Watts Hair Dryer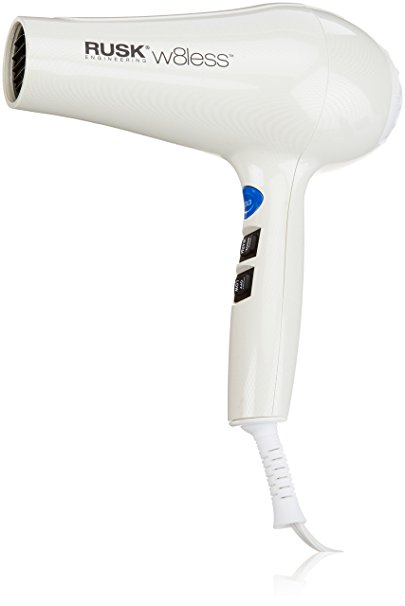 This lightweight yet powerful hairdryer is very versatile with its seven heat and speed settings. For fine hair, you should always stick to the lower heat settings. It also comes with a handy cool shot feature so you can set your style in place.
The 2000 watt motor gives you all the airflow power you will ever need in a hair dryer. It heats up using gentle far infrared heat which prevents over-drying and damaging fine hair. It's hard to believe that so much power comes in such a lightweight form.
It has a ceramic grill infused with tourmaline which works best for fine hair prone to heat damage. Ceramic heating offers an even distribution throughout the hair while plastic or metallic heating may cause uneven heat.  It also has a concentrator nozzle and a removable rear filter for ease of cleaning.
The bottom line is that this hair dryer has power, versatility, a nicely coated barrel and its super light in weight, making it easy to use.
Shoptoshop Gemi 
Hot & Cold Hair Dryer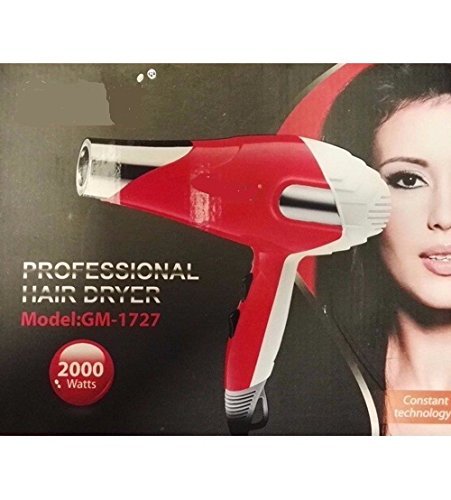 This 2000 Watt Hair Dryer offers heavy-duty performance together with lightweight handling. It features nano titanium technology with an integrated ion generator. It can cut your drying time in half with a powerful flow of heat and yet prevent frizz because of the ionic technology that reduces static. It heats hair enough to make it smooth and sleek, and yet it avoids stripping it of moisture.
It has great performance with advanced surround heat for ultimate drying. The cool shot button works very well, helping you to avoid damage and lock in style.
It features anti-overheating device so you can alter the heat setting and make it less intense if you have fine hair.  It also two speed settings and four temperature settings so it can be personalized to be the best for your hair.  A concentrator nozzle provides a range of styling options, and a removable filter makes cleaning easy.
These above hair dryers are all lightweight, have adjustable heat and speed settings and feature ionic technology. This technology is great for fine and thin air as the negative ions help you to achieve volume and a silky shine.