Box twists are not only gorgeous, but they are quickly becoming extremely trendy and retro. This hairstyle is known for being one of those hairdos that are exceptionally low maintenance; making it a complete winner!
In this guide, we will cover the basics of box twists and also give you a quick guide on how to get the marvelous look.
The box twist braiding process
Before starting grab the following:
Small tooth double-sided comb
Pintail comb
Get the proper hair extensions
Rubber bands
2-3 bags of Kanekalon hair
Murrays Beeswax molding paste
Honey curl forming a custard
Argan oil conditioner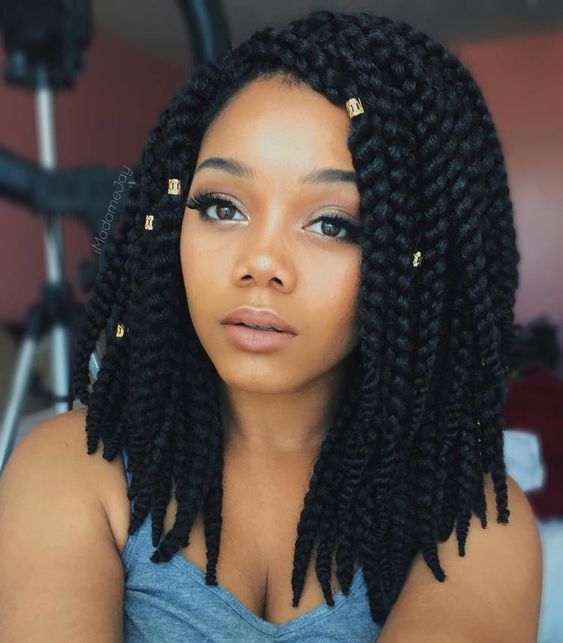 Get the right hair before starting
Just like all braids, you need to get the correct hairpieces to achieve the desired look. We would suggest getting the hot water 100% Kanekalon fiber hair for this braid.
The hair quality of Kanekalon is great because it's soft, tangle free and allows users to easily separate strands.
Work on clean hair
Ensure that your hair is washed and clean before starting. It's also important to dry the hair so that this hairstyle can work out properly.
Part the hair
In this step, you will need to use the pintail comb to help part the hair. Ideally, you will want to part the hair into three sections. From these three sections, you will need to further divide the hair and part it into smaller triangular sections. Tie each of the sections with a rubber band so that everything stays in place.
Add the Kanekalon hair
Once the hair is sectioned and parted the fun begins. Add on the hair pieces to the natural hair and braid it over the rubber bands. Use thick pieces of hair and braid it tightly together. If you have shorter hair you can add them to the braids.
Secure the ends
After each braid is done, securely tie it with a rubber band. You can choose exactly where you want the braid to stop and where you want the rubber band to be placed.
Repeat until all the hair is completed
Cut the ends
After all the hair is braided, grab a scissor and carefully cut off the ends. You can choose to have your box twists at any length that you desire.
Final touches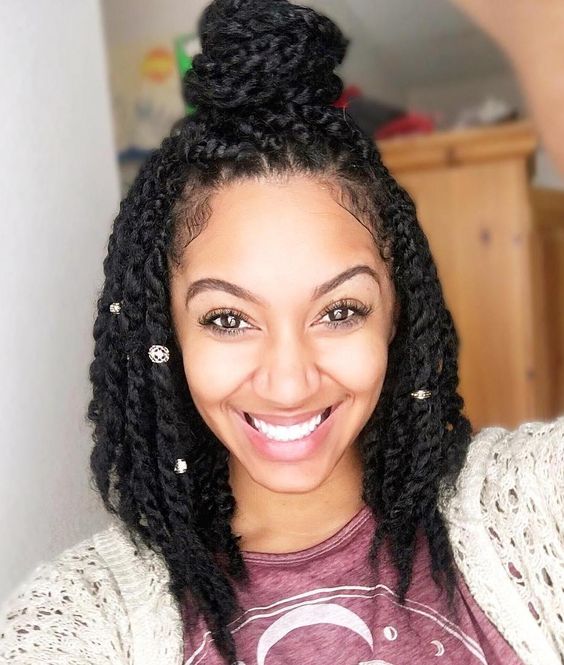 If you notice that your braids are extremely stiff after they're completed, don't panic. This is completely normal and can easily be fixed by steaming the hair with some boiling water.
All you need to do for this step is to boil some water and allow it to cool for a couple of minutes. Next, soak the bottom pieces of the hair in the water and it will slowly start to soften. If your hair still feels stiff then try sitting in a sauna or even in your bathroom after steaming it up.
Why we love box twists
As previously mentioned, box twists don't require much maintenance. It's a great hairdo for those who are on the go and have very little time to worry about washing their hair. These braids only require you to wash them every week or so.
Another reason that we love this look is because of how versatile it actually is. You can easily move the braids in different directions and try out a bunch of different hairstyles.
Maintenance tips
Avoid using shampoos and styling products because they create a buildup of residue.
Do use a hydrating moisturizer so that the natural hair and scalp stay well nourished. Moisturizers and oils also prevent the hair from breaking and damaging in the long run.
Keep the hair dry after washing it so that there are no funky smells that occur.
As far as shampooing and conditioning go, only wash the hair after two/ three weeks. The process for this should be done by applying shampoo to a damp cloth and applying it to the hair mildly.
On average, box twists should be taken out after two months to ensure healthy hair.
When removing the braids always be gentle so that you do not cause any damage to your hair. Start from the bottoms and then slowly unbraid each twist.
Treat the hair with nourishing hair oil after removing the box twists and allow the hair to breathe.
Will box twists suit you?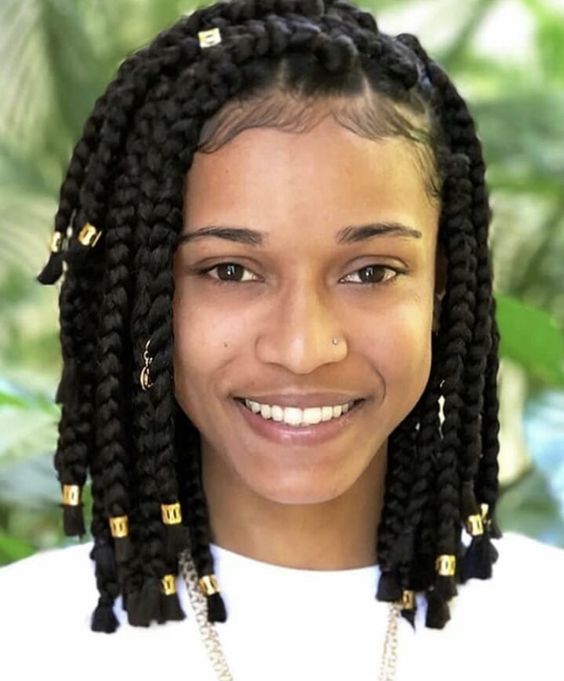 The fabulous thing about box twists is that they are currently so trendy. If you are someone who is young at heart and loves keeping up with the latest trends, then yes- this look is great for you!