In life, we are constantly racing against time. It's either we are rushing to a meeting or competing to meet a certain deadline. One tool that is always with us to help us keep track of our timelines is the clock.
The clock is a constant reminder that time waits for no man. With every tick and tock, a moment is gone that will never come back. It is thus no surprise that traditional clock tattoo ideas are popular. These vintage clocks continue to be popular for their special symbolic meanings.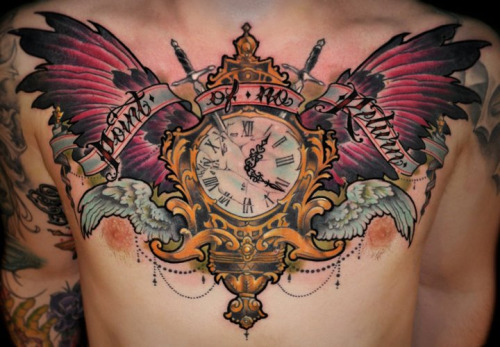 Reasons to go for traditional clock tattoo ideas
1. A constant reminder of the value of time
It is well said that time is the most precious asset a man can have in their lifetime. The clock is a symbol of time which is what humans use to gauge the progress in their lives and record them as memories.
2. Is a symbol of life and death
As time ticks, the clock acts as a reminder of endless infinity. However, with the clock ticking every second, the wearer is assured of one thing, that a time is coming when the time will catch up with you. This is when we die.
3. Symbol of love
Time never ends; it is our time on earth that comes to an end. A clock tattoo is therefore used to represent the endless kind of love for the people we love such as spouses and children.
4. Symbol of pride of one's heritage
Old is gold, and there is elegance in still flouting the ancient. A traditional clock is a perfect way to keep reminding oneself of things of the past such as the traditional fashion styles.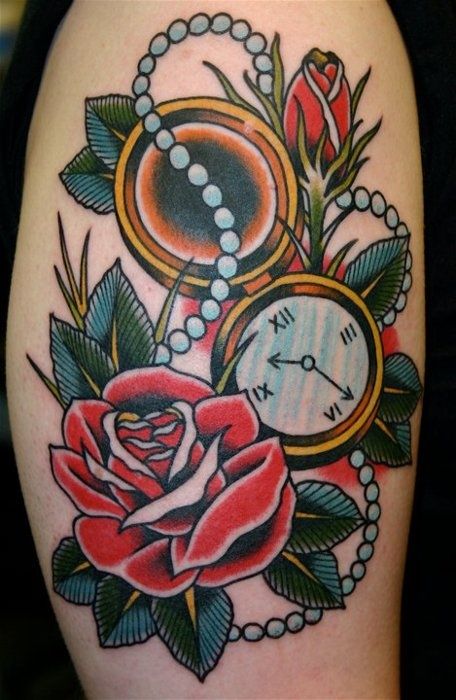 6 of the best traditional clock tattoo ideas
1. Rose and clock
The most recognized of the flowers in the world is the rose. Perhaps this is because a rose represents everlasting love. Roses are an ideal blend if you wish to add a feminine touch to your traditional clock tattoo design. Other flowers to try are lilies and the lotus flower.
2. Clock with inspirational quotes
As much as the clock tattoo speaks a thousand words just by itself, engraving words such as 'Don't let time pass by' or 'make every second count' brings out the message of your tattoo more clearly.
3. Sundial design
The combination of the sundial and the traditional clock design is a symbol of the good old times. Particularly, the sundial design symbolizes the ancient wisdom.
4. Roman numerals
There can be no better way of celebrating the ancient times than incorporating roman numerals in your traditional clock tattoo. The Roman culture is undoubtedly the oldest culture in the history of humankind.
5. Butterfly and clock
This tattoo represents a transformation in the context of romance and love. The wearer may be sending the message that they have found love that has transformed their life.
6. Traditional clock and skull
A skull is an art that symbolizes resilience. Combined with a clock tattoo, this design depicts the endless infinity. For a Christian, this design is a constant reminder of life after our time on earth is gone.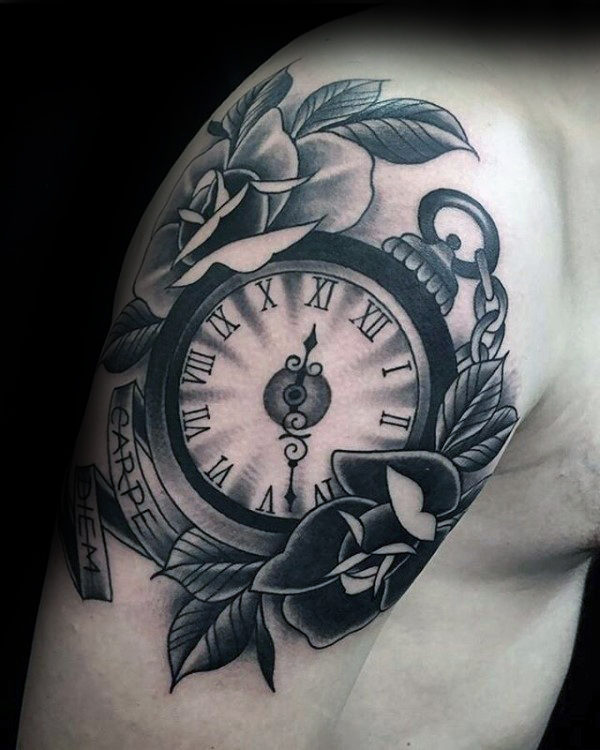 Tattoo tips
The best thing about choosing a traditional clock tattoo is that is that you can blend it with as many designs as you would wish. Ensure to customize your traditional clock tattoo to match your unique preferences. A tattoo is an art; use it to express your personality and what you stand for. The last thing you should do is have a design that you do not know its meaning.
The tattoo can comfortably be worn by both men and women. You can customize the tattoo to bring out masculine, feminine or neutral attributes. For the men, blend your tattoo with designs such as a skull, a dagger or the grim reaper. For the ladies, roses, butterflies, and a dove are a perfect combination to bring out femininity.