Shopping is fun, always! But buying skin care products is sometimes a challenging task. The reason is obvious, it's hard to risk our skin due to a negligent choice. There comes the need to equip oneself with proper information regarding tanning products so our Hempz Tanning lotion review should help you have some clarity on what it is and if you should use it.
What To Check For While Choosing A Tanning Lotion?
Your Skin Tone And Type
Unless and until you acquire all the details about your skin, don't jump into that body product store. You need to know about your complexion- precisely what your skin's tone is. The skin type is also essential. Whether your skin is oily, dry or sensitive?
The mild Hempz tanning lotions can be used for each skin type. Still, you need to choose from the wide range of Hempz lotions according to your skin.
Skin Nurturing
Skin nourishment is essential to keep it healthy and glowing. Check out for the nurturing abilities of the product. Shea Butter and Hemp Oil Seeds are good ingredients for this purpose.
Anti-inflammatory Product
Usually the tanning products leave redness behind. These inflammations can spoil the results altogether. This happens because of unawareness about the choice of product.
Anti-ageing Properties
The free radicals and the sun are prone to causing aging effects. Thereby, this is a must to check. Check for the ingredients that are useful for anti-aging as ginger root, ginseng, etc.
Reject If You See Any Of These
Colorings and perfumes are a big no. Don't buy if urea or lactic acids are present in ingredients. Too many acids are harmful to skin, whatever may be your skin type.
Why Hemp Tanning Lotions?
The Hemp tanning lotions are equipped with all the necessities of being a result-oriented lotion. The only significant aspect to take care of is your skin type and tone and how the Hempz tanning lotion would work upon it.
There are ample of choices in Hempz tanning lotions to choose from according to your requirements. The review of the same to make your choice a bit easier is being provided to you readily. Scroll along for the same.
HEMPZ ULTRA DARK TAN MAXIMIZER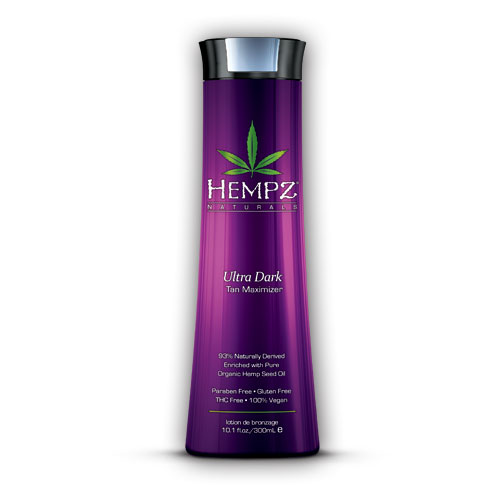 Source: cdn3.volusion
With a little tint, this lotion gives you a soft, smooth and fresh looking skin. Along with that beautiful glowing look, it improves the texture of your skin. It doesn't have a bronzer, and thereby, it's recommended for indoor tanning. Some other benefits are:
It keeps skin hydrated and doesn't even make you sweat.
It's affordable and easy to use.
It has pleasant fragrance.
It protects your skin from UV rays.
HEMPZ NATURAL BRONZER TAN MAXIMIZER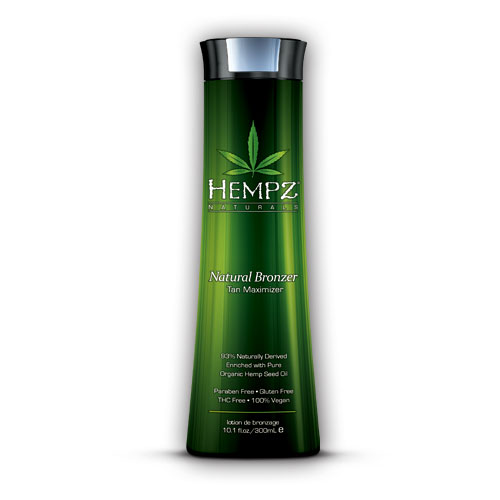 Source: cdn3.volusion
It includes DHA, natural extracts, and activators to make your skin look flawless. The bronze tint enables streak-free tan for the user. It's recommended for people who need a deep tan. Other benefits are:
It hydrates the skin and makes it look glowing and glossy.
It is a streak-free bronzer.
The lotion spreads easily to make skin smoother and healthy-looking.
It's gluten-free and 100% vegan.
HEMPZ HYPOALLERGENIC DARK TAN MAXIMIZER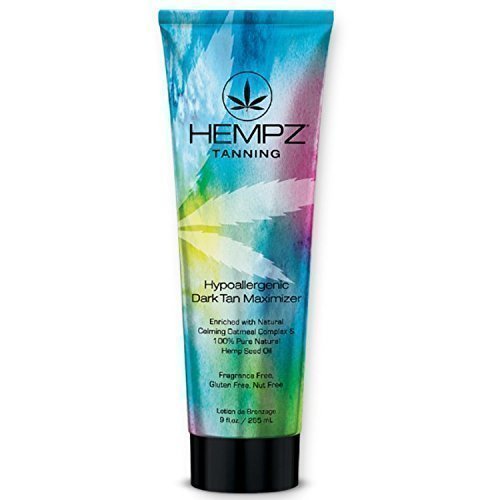 Source: images-na
For the deep-tan and dark-skin lovers, this product is for you. Even after exposing oneself to the UV rays, the skin keeps on darkening over time. This product is rich in vitamins, minerals, anti-oxidants, and silicon. The benefits are many:
It is anti-oxidant rich.
It gives an instant golden shine to the skin, eliminating the need to sit in sunlight whole day long.
It's hypoallergenic. What more can one ask for?
It protects skin from UV rays.
It's gluten-free and easy to use.
These are the best to list from amongst the wide range. You may select what suits you the best according to your skin type and skin tone.
Happy Tanning people!